Black Bear Lodge Production
Produced for the owners of the lodge and the building contractor, Sexton Construction.
Shot in 4:2:2 Sony HDCAM 1080i.
From conceptualization to
finalization

.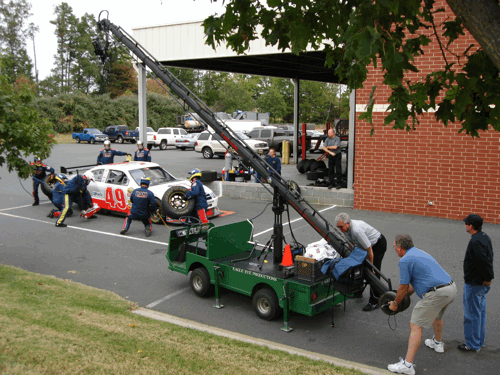 Using the Cam-mate jib filming a recent NASCAR commercial.
Advantages and Benefits of Choosing Wide Eye Productions® As Your Partner:

At Wide Eye Productions®, we don't approach projects as merely services providers. Instead, we become a partner with you to achieve the best possible results – within budget and on time. We consider ourselves an extension of your organization, charged with maintaining your integrity, philosophy and reputation as we fulfill your project request.

Our company's success has been built on providing the highest quality product with-in the most efficient budget. Through our work with Public Television, numerous nonprofit organizations, and our corporate, and broadcast clients we understand the need for monetary prudence without sacrificing quality or attainment of project goals.

Our staff's previous corporate and broadcast news experience includes developing and delivering Emmy Award-Winning Television programming, corporate communications, training programs in a variety of formats – in person, through printed materials, through videos and a combination of all three. Understanding how training is best delivered for the maximum impact among participants is an essential component to Wide Eye Production's success in all production aspects.

We are a turnkey production provider. Most companies in our region have to outsource certain aspects of the production process. But by handling these functions in-house ourselves, we can help you save up to one third of what you might traditionally pay for these services. As part of our editing service, we back up each and every production on hard drives – at no additional cost to you. This means you can easily and affordably request changes to the final version of your production if needed at very little costs. Other companies have to re-edit your entire product from scratch, which prohibits most companies for making needed changes because of cost. The YMCA of Northwest North Carolina YMCA Camp Hanes knows the advantage of this service. We update their promotional video annually at a minimal cost, allowing them to have a current video each year.

On-site Shooting. Wide Eye Productions® was the first, and is one of the only, production companies in the region that can produce programming in High Definition. Wide Eye Productions® is committed to providing clients with the best quality visuals by offering the latest technology in Electronic Field Production. We offer Sony camera products starting with Sony's DSR-570 DV-Cam, Beta SP, Digi Beta and Sony's HDW-750/950-R High Definition 1080 cameras, which are the broadcast industry standard.

In addition, Wide Eye Productions® conducts on-site reviews of all footage shot, enabling us to quickly make adjustments to the scene, action or talent, ensuring that we have the necessary visuals needed to complete a quality project when we reach the editing and final production stages.

Editing. Wide Eye Productions® uses non-compression digital non-linear editing in all formats. This allows the crispest and cleanest version of the final product and allows for quick revisions if necessary. This is the same equipment used to produce and edit our national Public Television programs.

Graphic Imaging. The additional graphics (type or visual) we will produce will be pertinent to the information and presented in ways best suited to the goal of informing and training the audience. For example, we will not employ overly complicated animation or unnecessary "bells and whistles" just for the sake of doing so. Instead, we will ensure that the graphics are relevant to the information and presented in a way that is learnable and retains attention.

Music. We have large library with a wide variety of "stock" music. We also can compose and produce original music scores. Our latest original score on the North Carolina Mountains program for Public Television just garnered an Emmy.

Review. As our first task for our clients, we will establish with your staff the types of review desired for your project and the timeframe for these reviews. Along with reviews of the rough cut of the production, we will have reviews of talent, graphics, music, and any other aspects desired.

Completed Video. We will provide the completed production in the formats requested. We will also include a Broadcast Master for your achieves. In addition, we can offer labeling, packaging and duplication services at competitive prices if desired. This work can be viewed at our online store at www.gsrj.com/store.html.
What makes us
different?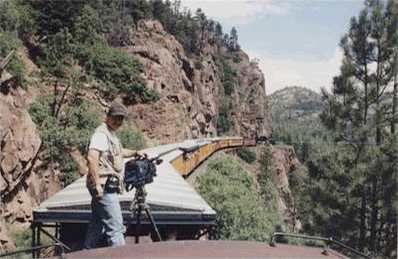 Filming in Durango, Colorado on the world famous high line. This is the section of track where Butch Cassidy and the Sundance kid was filmed and where Paul Newman and Robert Redford jumped into the Animus River.
Quite simply, we offer the best product at some of the most affordable prices anywhere. Many companies make similar claims. But at Wide Eye Productions®, we practice the philosophy.
We continually
evaluate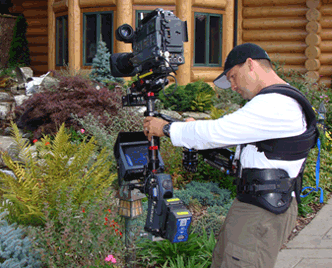 Shooting using our HDCam on our steady-cam rig.
the newest technology available to enhance the services we provide, so we are able to offer a diverse range of television production services. We are traditionally one of the first companies in the area to acquire new technology – technology that means we can produce your project faster, more affordably and with higher quality than our competitors. For example, we are currently the only Sony High Definition Television (HDTV) facility in the region.